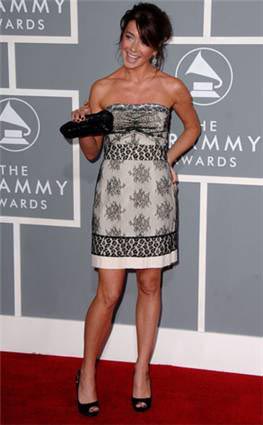 The stars came out in style to attend the 49th annual Grammy Awards. Grammy favorite, Mary J. Blige strolled down the red carpet in an understated cream- colored dress and metallic silver belt. While this Grammy winner managed to keep it classy on the red carpet, something was definitely a little amiss with Paula Abdul.
Abdul, outfitted in a black and white ensemble and overdone (and somewhat tacky) accessories, looked a little out of it. When questioned about her jewelry, she replied that she got them from "Rose" and that she was "a gem." O.K, whatever you say Paula! Why the secrecy? Just tell the world where you got those Wal-Mart looking accessories so we can stop them from producing more!
Canadians Nelly Furtado and Michael Buble took a few moments on the red carpet to sing a little duet for the cameras; making you just want to pinch their sweet little cheeks just for being so darn friendly!
It got a little dark on the red carpet with the arrival of a raven-haired Hilary Duff. Apparently she dyed it for a movie. I think the look suits her. She said she was looking forward to a "fun evening" and just wanted to "relax because she was so busy promoting her single." Well, obviously she wasn't THAT tired- she got in a good plug for her new song on camera; that girl really did work the red carpet!
Now the big gossip was the apparent burn John Mayer gave to Ryan Seacrest when Seacrest tried to pry into his life with Jessica Simpson. Apparently there is some controversy over what Mayer's Japanese phrase really meant, with some camps saying that it translates to mean, "I think Jessica is very beautiful and you'll be the last to know." Others have translated the phrase to " Jessica is a very beautiful person, and I am lucky to be with her." Any Japanese speakers out there who know what he said, please submit your translation so we can put this to rest!
A few other "best dressed" nods to acknowledge: Alyson Hannigan, wearing an Alessandro Dell 'Acqua gown, and Leann Rimes in a low cut Monique Lhuillier gown and turquoise jewelry. They prove that you don't have to go over the top to make a great style statement. Speaking of over the top: Grammy nominee Imogen Heap may just beat out Bjork's Swan Gown for the most outrageous and downright strange outfits on the red carpet.
And I leave you with a few parting words: grillz are unnecessary, especially at the Grammys - thank god Brooke Hogan left hers at home for this event!!