From Bbc.co.uk
Alyson Hannigan
Buffy star's theatre intruder - Alyson Hannigan
Wednesday 14 April 2004, by Webmaster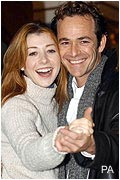 The London theatre where 'Buffy' actress Alyson Hannigan is starring says she was never in danger, even though a fan got backstage without permission.
She plays Willow in the show, but is currently working in a stage version of 'When Harry Met Sally'.
The Theatre Royal Haymarket says a man slipped past security but they marched him out before he got anywhere near her dressing room.
Earlier reports had said the fan had entered Alyson's dressing room and tried to get her autograph.