From Bbc.co.uk
Angel
Hollywood Vampire updated
Monday 17 March 2003, by Webmaster
Author Keith Topping has confirmed that he will update his popular unofficial Angel episode guide, Hollywood Vampire.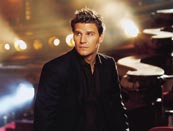 An essential collection of facts, trivia and comment on the show's first two seasons, the book will be expanded to include the show's third and fourth seasons.
"I'm delighted to be updating the Angel guide to cover the last couple of seasons of what I consider to be the most consistent television series in the world at the moment," Keith told us.
The updated Hollywood Vampire will be published in January 2004.