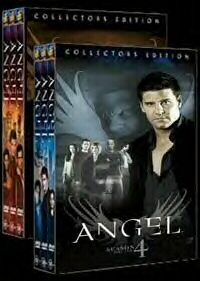 Angel Season 4 - COMPLETE SET (6 Discs) (225701)
Available Wednesday 10th March 2004
$AU149.95 (inc GST) Currency Converter International Price

This DVD is formatted for playback on PAL enabled systems (Australian Standard).

Includes free courier delivery via Star Track Express (Australia Only)

Attention International Customers
This title will incur a $25.00 shipping & insurance charge in addition to the international price.

To display the international price please click on the currency converter link above.


Features the entire Season 4 of Angel!
All 22 episodes spread over 6 DVDs!
(Includes boxset parts 1 and 2 of Season 4)
After three years of living in Sunnydale, fighting along side his girlfriend Buffy, Angel moves to Los Angeles to tell the tale of a vampire with a soul, seeking redemption after many years of killing innocents. Aided by a few old friends and new, Angel must continue to fight the dark forces that Los Angeles has to offer.

Episode List:
Deep Down
Ground State
The House Always Wins
Slouching Toward Bethlehem
Supersymmetry
Spin The Bottle
Apocalypse, Nowish
Habeas Corpses
Long Day's Journey
Awakening
Soulless
Calvary
Salvage
Release
Orpheus
Players
Inside Out
Shiny Happy People
The Magic Bullet
Sacrifice
Peace Out
Home

Special Features:
To Be Confirmed...

Actors: Amy Acker; David Boreanaz; Charisma Carpenter; Alexis Denisof; Andy Hallett; J. August Richards
Audio: Dolby Digital 2.0 Stereo
Aspect Ratio: 16:9 Enhanced
Transfer Format: Widescreen
Category: Box Sets
Region: 4
Distributor: Fox
Rating: M15+
Languages: English
Running Time: TBC mins