You might say it was a good and bad day for Sarah Fain and Elizabeth Craft.
The good part was that the former Kansas Citians were watching the cast of "Angel" speak lines they had composed. Since the fall of 2002, they have been staff writers on the WB drama about a vampire with a soul that recently aired its 100th episode.
The bad part was that same day, show creator Joss Whedon had bad news for everyone: The WB had decided not to pick up the show for another season.
"They were shooting a scene in a dungeon, and that's where the announcement was made," Fain said with a slight laugh, "... with all these instruments of torture all around."
That episode, "Underneath," will air at 8 tonight. It's the first of the last six original "Angel" episodes and the last of eight credits the two longtime friends will have had on that show.
"It was sad, but there was enough of a sense that this could be the end that we knew what we were building toward," Craft said. "We got really lucky because the WB, out of respect for Joss and I think for the show, did give us enough lead time so we could end the show the way we wanted to."
So how did Fain and Craft - Pembroke Hill Class of 1989 - end up on the writing staff of a network drama? Both said it started at the preparatory school, where they managed to avoid creative writing classes but still learned how to express themselves in English and writing classes.
Fain went on to Williams College in Williamstown, Mass., taught high school for a year in North Carolina, then went on to graduate school at University of North Carolina in Chapel Hill. She took, and then taught, a screenwriting course.
Craft went to Columbia University in New York and worked her way up from receptionist to editor at a company that produced young-adult book titles. Among the books she worked on were the Sweet Valley High line and her own line, called @cafe.
The two remained friends and happened to catch up with each other while visiting family here during a Christmas holiday. By then, Craft had been in New York nine years, and Fain was getting tired of Tar Heel country.
"I told Liz I was just going to move out to California, and she said, 'I'll come visit you,'" Fain said. "... And that became, 'I'll think I'll just stay here,'" Craft said.
Craft was able to keep working as a free-lance editor; Fain found other jobs, including personal assistant to actress Lauren Holly. In their free time they concentrated on writing "spec" scripts in hopes of getting a TV job. Their "in" was another Pembroke Hill classmate, Todd Skulking, who was working as an agent. He eventually got them representation, which led to work on an NBC Saturday morning show called "All About Us."
They got their first big break in 2002 when Kevin Williamson hired them for a new drama of his, "Glory Days." Williamson was coming off hits like "Dawson's Creek" and "Scream," and the WB seemed determined to push him that fall.
The show was canceled after nine episodes.
"Part of what we love about this work is that it's competitive, high-pressure, and you never know what will happen next," Craft said. "Of course, that's also what we hate about it. But there's this adrenaline rush we love about always being on the edge. ..."
"And this is not what you'd expect out of us if you were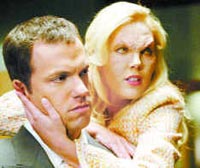 to just meet us as people," Fain said. "We're very normal."
"We're not bungee jumpers," Craft said. "But it is a challenge, especially now with so many reality shows. Hopefully that will phase itself out, but it's scary. The field is narrowing for writers."
Their agent didn't let them dangle for long. Both women were fans of "Buffy the Vampire Slayer," the show that spawned "Angel," and he knew they liked the show. He encouraged them to interview with Whedon for a writing opening there.
"We basically watched six shows a day for a while, just trying to get caught up with everything," Fain said. "We were so nervous at one point that our agent offered to cancel the interview."
Whedon wanted to hear a spec idea. The one Fain and Craft came up with involved the back story of Fred, a new character the heroes had rescued from a cruel alternative world the season before. Fred, they said, would find out a professor she trusted was responsible for her misfortune.
Whedon bought it, and them as a writing team, which meant one salary, though Fain said it was sufficient enough that both were pleased with it.
The idea was fleshed out as "Supersymmetry," the fifth show of Season 4.
Both women said the writing staff, eight persons in all, was very accepting of them right away, and the thing they'll miss most is the teamwork of the writing room. They also adjusted to writing for a vampire pretty quickly.
"As long as you get into the character's heads and think of it as a character who happens to be a vampire, you're fine," Fain said.
In a bit of irony, since Fred brought them in, their last episode tonight concerns how the heroes are coping with Fred's death. The character was killed by an ancient evil spirit that took over her body.
An ancient evil spirit that took over her body?
"Like she said ... you just concentrate on the characters," Craft said.
With a final script completed, the "Angel" writing staff was dismissed April 2; final shooting on the last episode was being done last week.
Fain and Craft have already found their next job: Shawn Ryan, a former "Angel" writer, hired them as writers and producers for the fourth season of his FX cop drama, "The Shield." They're ecstatic about that, but production won't begin until June. They plan to fill the time by writing a young-adult book, researching police officers and reading more of the "Angel" fan mail that they, even as writers, get.
"Some of it's hate mail, especially when they don't like what you're doing with Spike," Craft said. "But we've always appreciated knowing how they feel. Some of them ... know a lot more about the mythology of the show than the writers do."
And, no, neither would say what fate awaits Angel and company.
"Not if we want to live," Fain said. "But I think (the end) is fitting."
"It's going to be an 'Angel' ending," Craft added.