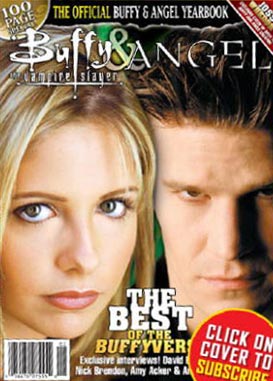 Welcome to the official Buffy & Angel Yearbook! Packed with all new exclusive interviews and features, this is the perfect opportunity to look back at 2005 - and what a year it's been! It's been a fantastic time for many of the former Buffy and Angel stars, with many of them being offered a whole host of new film and television projects. Plus, of course, there have been on/off developments with the Buffy Animated project, a whole host of new Buffy and Angel books and a great new Angel comic and Spike one-shot to enjoy - as well as the recent exciting developments on the Spike TV movie front.
PLUS...
REVIEW OF THE YEAR
A look back at what 2005 offered Buffy, Angel and our favorite stars.
JOSS WHEDON
He's the master maestro of Buffy, Angel and Firefly, and Joss is here to exclusively discuss his future projects, and his hopes for the future of the Buffy/Angelverse.
DAVID BOREANAZ
The incomparable David Boreanaz joins us for an exclusive interview, and discusses everything from Angel on the big screen to his hit new TV show!
THE BUFFY & ANGEL READER AWARDS
You came, you saw, you voted! Find out the winners of the Buffy and Angel reader awards in our glitzy ceremony!
THAT'S A HAT TRICK
What do D'Hoffryn, Ken the priest, Weatherby the Watcher and lab rat Knox all have in common? They're the only actors to have appeared in Buffy, Angel and Firefly! We find out about their time on the shows...
AMY ACKER & ANDY HALLET
The deliciously demonic duo join us for a special joint interview. And you'd thought you'd seen Lorne and Illyria together for the last time...
It's been 18 months since we left Angel in that rain-drenched alley, preparing for the fight of his life. While we may not know how that story turned out, we do know that for David Boreanaz it had a happy ending. Since leaving Angel the actor has gone from strength to strength, making three films and landing the starring role in a brand new show. In an exclusive interview, we caught up with David to discuss his new projects, his ambitions, and his thoughts on bringing Angel to the big screen...
David Boreanaz just can't leave death alone. For eight years, he was one with the undead, playing the brooding vampire Angel on Buffy the Vampire Slayer, a character he transitioned to his own successful spin-off for five seasons on Angel. It's been more than a year since his TV vampire days ended, but David is back among the dead for his new Fox series, Bones. As the very human Special Agent Seeley Booth, David is back to relatively familiar ground, hanging out with the deceased, except this time he's poking around the decayed remains of the dead with forensic anthropologist Dr. Temperance Brennan (played by Emily Deschanel), in order to solve the complex mysteries of their often tragic deaths. An entertaining mix of forensic mystery show (a la CSI) and a standard procedural, mixed with some romantic chemistry between the oil and water lead characters, Bones premiered in September, to strong ratings and solid critical reviews. For David Boreanaz, it's a return to his TV roots and hopefully a launching pad to new career horizons.
Never one to rest, the past year has been an extremely productive time for David. Since Angel wrapped, the actor has spent his time catching up with family life, while also exploring small film roles in movies like These Girls, Mr. Fix-It and The Hard Easy. While many of his peers from Buffy and Angel took some well-earned time off, David jumped on the opportunity to return his focus to acting in film and laying the ground-work for a long-term stay in the medium.
"My Father [weatherman Dave Roberts] is a great teacher about the basis of patience," the actor shares, when discussing his approach to building his film career. "You have to be patient and you have to be ready for when the time comes because if you're not, you are going to blow it."
Read the full interview in the Buffy & Angel Yearbook.
Click on the link :