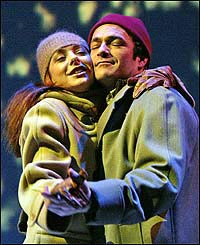 Hannigan and Perry's Harry and Sally Set to Face the London Press
By James Inverne
20 Feb 2004
Alyson Hannigan and Luke Perry in When Harry Met Sally
photo by Alastair Muir
Amidst much hype, the stage version of When Harry Met Sally - starring Luke Perry and Alyson Hannigan - is set to face the critics at its official opening Feb. 20.
Taking over where Billy Crystal and Meg Ryan left off, the show will hope to emulate the success of Rob Reiner's 1989 film when the curtain goes up at London's Theatre Royal, Haymarket.The show is directed by Loveday Ingram and produced by James Tod, with music by current "cool" jazz star Jamie Cullum and his brother Ben.
Hannigan is arguably a more bankable name than Perry these days, with her star-making turns in TV's "Buffy the Vampire Slayer" and the "American Pie" big-screen franchise. When Harry Met Sally sees the 29-year-old actress moving away from more adolescent roles.
Perry, of course, is known to television viewers worldwide for his role as Dylan in "Beverly Hill 90210." Unlike Hannigan - who is making her stage debut in Harry Met Sally - Perry is no stranger to live audiences. He played Brad in The Rocky Horror Show on Broadway.
The film "When Harry Met Sally" was a surprise hit when it premiered in 1989 and helped establish the careers of many of the artists involved, including Crystal and Ryan, who thereafter were thought of as viable romantic leads; screenwriter Nora Ephron, who soon after graduated to the position of director; and Harry Connick, Jr., who scored the hit soundtrack spawned by the movie.