From Groups.yahoo.com/group/Ravens_Michelle_Trachtenberg & Ign.com
Michelle Trachtenberg
Michelle Trachtenberg - 'Eurotrip' Movie (2004) - Bikini Scenes - Good Quality Photos
By KCRaven82
Wednesday 26 November 2003, by Webmaster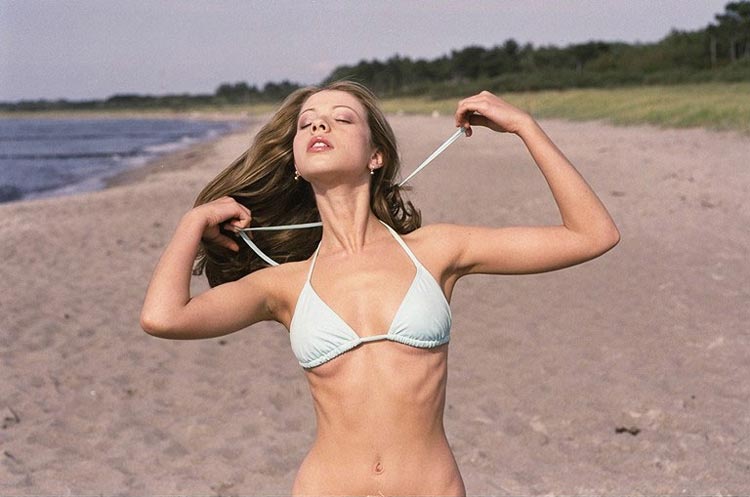 Buffy's Dawn gets frisky in new comedy
November 25, 2003 - We have little treat for you today... a titillating, exclusive look at Eurotrip, a new comedy from the makers of Old School and Road Trip.
The image below depicts two of the film's young stars; Jacob Pitts (K-19, Tart) and, yes, that's Michelle Trachtenberg, better known as Dawn from Buffy the Vampire Slayer. Try to contain yourselves.
Eurotrip follows four recent high school grads as they backpack through Europe to find a hot German pen pal before she leaves for the summer. Their trek takes them from London to Paris to Amsterdam and Eastern Europe, exposing them (as you can see below) to every lascivious, larcenous and lecherous indulgence Europe has to offer in a comedy that gives new meaning to the phrase "foreign relations."
Uniquely, Alec Berg, David Mandel and Jeff Schaffer all shared writing and directing duties on the flick.
In addition to Trachtenberg and Pitts, the film stars Scott Mechlowicz (Neverland) and Travis Wester (Teddy Bears' Picnic).
Look for cameo appearances by the likes of Matt Damon, Lucy Lawless and Smallville's Kristin Kreuk.
Eurotrip is tentatively set for a February 20th theatrical release.
Hit the flick's official website