From Titanmagazines.com
Angel
Angel Magazine #23 - Out now in the UK - Description & Cover
Sunday 15 May 2005, by Webmaster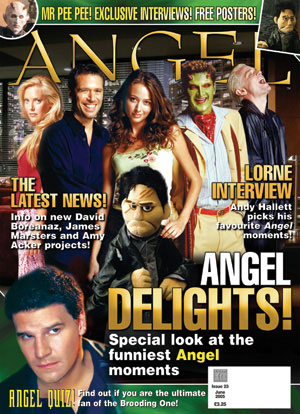 L.A. TIMES More exciting Angel news, plus the latest on what your favourite stars have been up to recently!
---
ANDY HALLETT Angel Magazine catches up with the Lorne actor to find out what he's been up to in the year since Angel finished!
---
ANGEL COMEDY! We take a look at the funniest moments in five years of Angel! Prepare yourself for pink motorcycle helmets, karaoke and, of course, puppets!
---
PLUS... • Test your knowledge with our Angel quiz! • Another monster profile in our brand new 'Monster and Angel' section • Free poster, interviews and lots more!
---